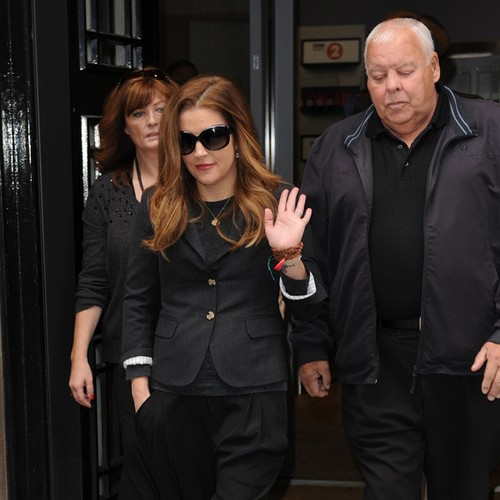 Ed Harcourt came across some lyrics to an unreleased song he wrote with the late Lisa Marie Presley.
The musician-and-songwriter — who is known for writing for Sophie Ellis-Bextor and Paloma Faith — worked with Elvis' only daughter on her latest LP, 2012's "Storm and Grace," and Ed recalls Lisa Marie being a had a bad feeling. of humour" and a potty mouth during their 2010 sessions.
In a touching memory, Ed shared on Facebook, "I am thinking of Lisa Marie Presley and her family today.
"Dug up some lyrics to an unreleased song yesterday….the last one we wrote I believe. I enjoyed working with her in 2010.
"We ended up writing a few songs for her album 'Storm and Grace', including this one with Jimmy Hogarth. She had a great sense of humor and cursed like a sailor and although we lost track of each other I love that time. I always thought her voice had such a beautiful tone. REST IN PEACE."
The 54-year-old star passed away on Jan. 12 at the age of 54 after suffering cardiac arrest and on Jan. 19 she was buried next to her son Benjamin Keough – who committed suicide in 2020 – in the Meditation Garden at Graceland in a private service.
A public celebration of life also took place on Sunday (22.01.23).
Guns N' Roses rocker Axl Rose was among those who paid tribute at the memorial.
The 'Welcome to the Jungle' hitmaker admitted he was 'quite nervous and emotional' when he got up to talk about his friend.
He said, "I didn't really know I was going to speak or anything.
"I still feel like I don't know I deserve to be here, but I wanted to try and do her and her family and her fans right. So it meant a lot, but I was pretty nervous and emotional up there."
Axl also sang one of Lisa Marie's favorite songs, his own band's "November Rain," and he explained that he was asked to do this because it was a request from the late star.
He told 'Entertainment Tonight,' "I got it, she was actually talking about the situation…so that's why I was asked to do it. Of course I had to be here."
During the service, the 60-year-old musician admitted he was still "in shock" over Lisa Marie's death.
He said, "I'm sure many of you are still in shock the way I feel.
"I will be for a long time. I feel like I should be texting her like I'm saying 'I'm here' right now, telling her how great everyone is.
"I never thought in a million years that I would sing here, especially under these circumstances. This is really devastating."
Alanis Morissette and Billy Corgan were also among those paying their respects.