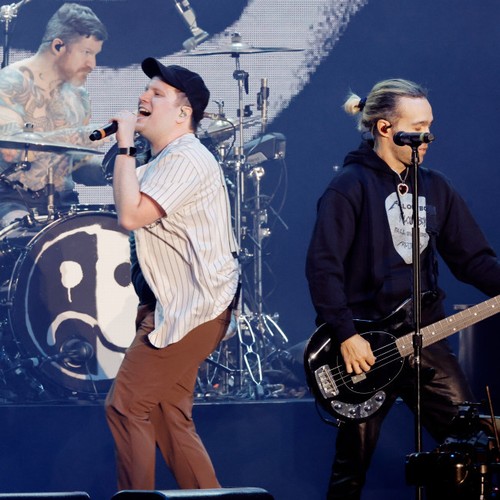 Fall Out Boy performed new songs 'Love From The Other Side' and 'Heartbreak Feels So Good' live in public for the first time.
The rockers — whose new album "So Much (For) Stardust" is out March 24 — performed an intimate homecoming show at Chicago's Metro club on Wednesday (25.01.23) for the venue's 40th anniversary, treating fans to a career spanning set.
The band started their show with the first single 'Love From The Other Side' and went on to play big hits like 'Sugar, We're Going Down', 'Dance, Dance' and 'Thnks fr th Mmrs'.
They also played some deep cuts, including the first performance of 'Take This To Your Grave' track 'Calm Before The Storm' since 2007.
Brand new song "Heartbreak Feels So Good" got its live debut, while the group previously revealed the video featuring Weezer frontman Rivers Cuomo.
They teased, "The robbery starts now. And before anyone asks, yes, we're doing all our own stunts."
Band members Patrick Stump, Pete Wentz and Andy Hurley performed live in public for the first time without Joe Trohman since the 38-year-old guitarist announced he was taking a temporary hiatus from the band to focus on his mental health.
In a statement, he said: "Neil Young once bellowed that it's better to burn out than disappear. But I can tell you unequivocally that burnout is horrible.
"Without revealing all the details, I must say that my mental health has deteriorated rapidly in recent years.
"So to avoid fading away and never coming back, I'm taking a break from work, which unfortunately includes taking a break from Fall Out Boy for a while."
He has vowed to return to the band in the future, but insisted it was "necessary" to put his "mental health first".
He added: "It pains me to make this decision, especially when we release a new album that fills me with great pride (the sin I'm most proud of).
"So the question remains, will I return to the herd? Absolutely one hundred percent. In the meantime, I need to recover, which means putting myself and my mental health first.
"Thank you to everyone, including my bandmates and family, for understanding and respecting this difficult but necessary decision."