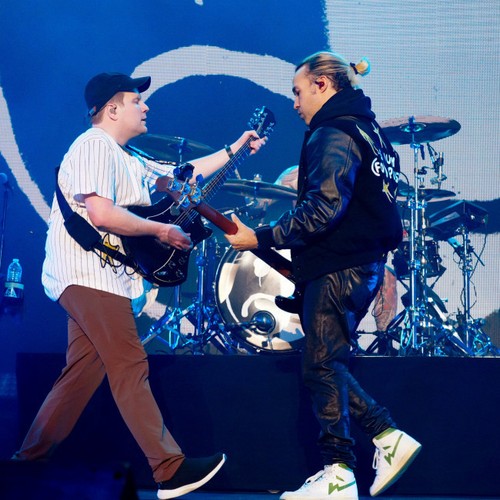 Fall Out Boy's new album is "made with love".
Frontman Patrick Stump has admitted it was important to make a sequel to 2018's "Mania" for fans to enjoy.
Speaking at iHeart Radio's 2023 ALTer Ego festival over the weekend, he said of the five-year wait for the LP: "It's so wild that it's been so long. [since 'Mania'].
"It didn't really feel that long, and we've been throwing ideas for this record ever since. But it was really important to me that we made something that we enjoyed… we wanted to make this like you're making dinner for your family, you know?'
Bassist Pete Wentz quipped, "So nuggets and chips in the airfryer together!"
Patrick continued: "(Laughs) No. I say something that you make with love, that you really put a lot into. Like clogs!"
So far, after many cryptic teasers, the band has announced the single 'Love From The Other Side', which will be released on Wednesday (18.01.23).
The release date came as the band sent shells to fans including Oli Sykes to tease their new album.
The Bring Me The Horizon frontman was one of those who received the bizarre gift from the 'Sugar We're Going Down' hitmakers as part of their cryptic campaign.
Sharing a picture of his pack of pop punk megastars, he wrote on Instagram: "Wtf what is this [and] why is it at my house".
The scale had "1 of 13" written in the center, while there was a cover letter on stationery that read: "A Homeboy's Life".
Dated January 19, 2023, it also contained the message "Love from the otherside", and was signed off with the band members' initials and the group's name.
Earlier this month, the band – also consisting of Joe Trohman and Andy Hurley – continued to tease records with a letter to fans promising "more than a gold watch" is in the pipeline.
In an email to their loyal followers entitled "A Homeboy's Life," they cryptically reflected, "Here we are completing another spin around the sun, a cosmic spin. We're still trying to break free from everything we could must be.
"But before the champagnes get warm and flat, glistening to dust, eyes squinted at the New Year's sun: let's fire up the engine and take it on another magical journey.
"We spent the last year ideas in a tiny room [and] can't wait to share them with you."
FOB then hinted that fans won't be waiting too long, thanking them "for sticking around forever".
In November, the 'Centuries' rockers placed an ad in the Chicago Tribute newspaper teasing their upcoming – as yet unannounced – eighth studio album.
The ad had a black background and read "FOB 8," followed by the words, "If you build it, they'll come."