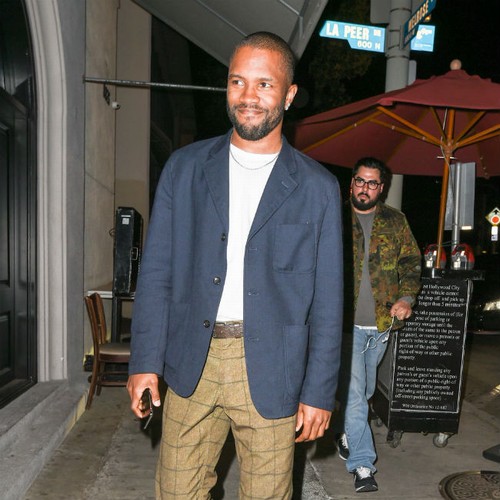 Frank Ocean has suggested a new album is on the way.
The 35-year-old star had previously revealed that he would be releasing new music as one-off singles rather than an album, but he appears to have changed his mind and teased a possible follow-up to 2016's 'Blonde'. his merchandise.
The print notes that a "fictitious artist" (seemingly Ocean) preferred "the singles distribution model as opposed to the long album model" because it was "more suited to modern consumption habits".
The biggest hint so far that another LP is on the way was the acknowledgment that: "The recording artist has since changed his mind about the singles model and is once again interested in more long-term work."
The 'Novacane' hitmaker – who is headlining Coachella in April – wiped out his Instagram page in September, suggesting new music is imminent.
Since 'Blonde', fans have had a slew of singles, including 'DHL', 'In My Room', 'Cayendo' and 'Dear April'.
Ocean has also aired unreleased music on his 'Blonded Radio' show.
In 2021, HITS Daily Double reported that Ocean had been "holding meetings and playing new music for executives as he plans his return".
The 'Swim Good' hitmaker is no longer signed to a label, having split from Def Jam Recordings for the release of 'Blonde'.
And the outlet claimed that Ocean is "doing his best not to do business with the majors."
The 'Nikes' star had previously maintained that he doesn't feel the need to release a full collection of songs and suggested he could stick to a "half-a-number format".
At the time, he said, "Because I don't have a record deal, I don't have to work in the album format. I can work in the half-song format."
The 'Slide' hitmaker also said it was important to him to self-release 'Blonde' because he didn't have to worry about how it would chart like his previous album, 'Channel Orange ' from 2012.
He said, "With this record ['Blonde'] specifically, I wanted to feel like I had won before the record came out, and I did, and so it took a lot of pressure off me about how the record would even perform after the fact. Once the goal is reached, everything else is lagniappe. It's not essential for me to have a big debut week, it's not essential for me to have big radio records."