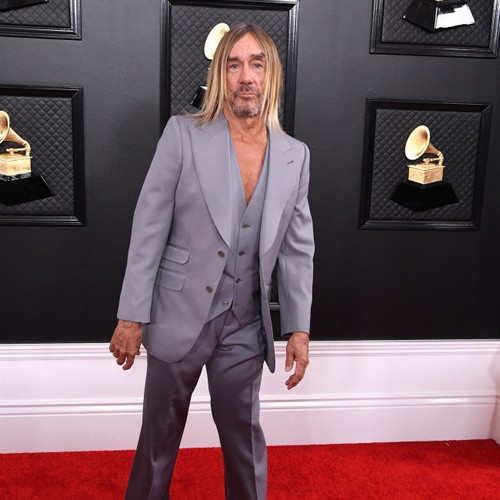 Iggy Pop refused calls from the Grammys for years.
The former Stooges frontman was eventually honored with the Lifetime Achievement award at the 2020 Grammy Awards, but he has admitted that he refused to talk to Grammy bosses because he didn't want to be "an exhibit in their museum".
He told Classic Rock magazine about the award and The Stooges reaching the Rock and Roll Hall of Fame in 2010: "Things changed and society met me halfway.
"The Grammys kept wanting to talk to me on the phone and I kept saying to my manager, 'I don't want to talk to them. I hate those people. They want me to be an exhibit in their museum or something.'
"When I finally spoke to the Lady of the Grammys a few months later, she said, 'We're giving you the Lifetime Achievement.
Without you there is no Lil Nas X and no Billie Eilish."
"According to her: 'You are a direct link to the artists who top our awards list this year.'
"So that's what one person had to say, and I'll take that for what it's worth."
Meanwhile, Iggy just revealed he was close to being in AC/DC.
The 75-year-old punk star – whose real name is James Newell Osterberg, Jr. is – claimed he could have been part of the rock band alongside the likes of Angus Young, Malcolm Young, Phil Rudd, Cliff Williams, Brian Johnson and Stevie Young, but wasn't sure how he would "fit" into their brand of music.
He said: "They had a manager years ago, when I hadn't reformed The Stooges I wouldn't have moved to England. And this guy said, 'Are you interested in joining AC/DC?' They were looking for a singer. I listened to their record. I thought, I don't fit in, I didn't think, 'Ugh, I don't like them.' It was quite well made. They do a careful job, but I'm not what they needed."
The 'Lust for Life' hitmaker added that he crossed paths with the late Bon Scott – who was the lead singer of AC/DC from 1974 until his death in 1980 at age 33 – although he still struggles can remember. the circumstances of their meeting because they were so drunk.
He told The New York Times: "I had a great meeting with Bon somewhere, and we were both drunk and stoned. I see pictures sometimes. I go, I don't remember, but that's me with Bon. I loved what he did ."