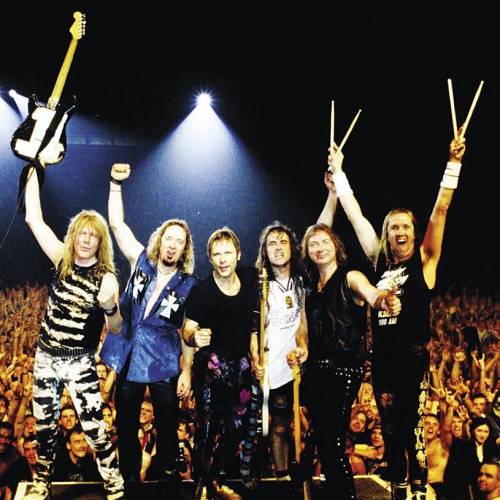 Royal Mail today unveiled images of 12 new special stamps celebrating one of the most legendary rock bands of all time, Iron Maiden.
The main stamp set celebrates Iron Maiden's live performances, featuring a selection of photos from their worldwide tours over the years, internationally and at home – and all of the band's current members.
Images range from the 1980s to 2018 and show:
—Steve Harris in Vancouver, June 2010
— Bruce Dickinson at Hammersmith, Odeon, London, May 1983
— Dave Murray, Adrian Smith and Steve Harris in Pamplona, ​​September 1988
— Nicko McBrain in Quito, March 2009
– Dave Murray, Bruce Dickinson and Janick Gers in Rio de Janeiro, January 2001
— Adrian Smith and Steve Harris in Helsinki, May 2018
– Iron Maiden at Twickenham Stadium, London, July 2008
– Bruce Dickinson swordplay with Eddie in Birmingham, August 2018
Another four stamps pay homage to Eddie, the long-serving mascot and pop culture icon in his own right, Eddie, with his own miniature skin. The stamps feature four infamous Eddie artwork, including the latest addition featuring Eddie as a samurai warrior from the recent Senjutsu album.
The stamps read:
– 'Iron Maiden' Eddie: The look that started it all. Born in 1980 – on the cover of the band's debut album
– 'The Trooper' Eddie: the unforgettable artwork for one of Iron Maiden's biggest hit singles and, more recently, the logo for their award-winning beer
– 'Aces High' Eddie: reimagined as a fighter pilot for a song celebrating the RAF servicemen who defended Britain during World War II
– 'Senjutsu' Eddie: Samurais, feudal Japan and flashing swords inspired this katana-wielding warrior, from the band's most recent album
The background of the miniature sheet is taken from Iron Maiden's first official live album, Live After Death (1985).
Formed in East London in the mid-1970s by songwriter and bassist Steve Harris, Iron Maiden's decades-long career has made them one of the most respected and influential bands of all time. With over 100 million record sales, nearly 2,500 live performances in 64 countries, and 17 studio albums – including their latest, Senjutsu, due out in 2021 – Iron Maiden has been fearlessly creative and dedicated to their legions of fans for nearly half a century.
Steve Harris, founder and bassist of Iron Maiden, comments: "We were all absolutely stunned – in a good way! – when we first heard about the memorial project, and equally speechless when we first saw the stamps. They look fantastic and I think they really capture the essence and energy of Maiden. We are all very proud that Royal Mail has chosen to honor the band's legacy in this way and we know our fans will feel the same way."