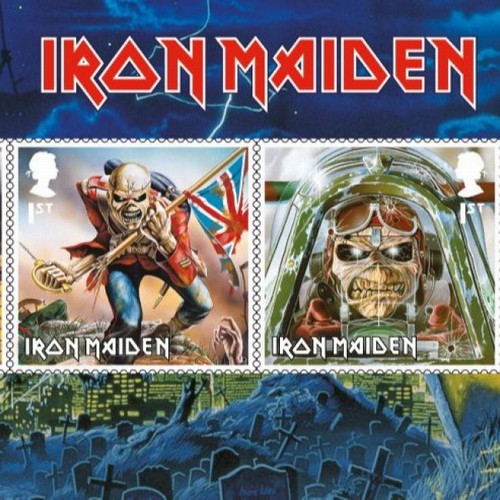 Iron Maiden has been immortalized in stamp form.
The Royal Mail has unveiled 12 stamps in tribute to the "bona fide rock legends".
Eight stamps are performance photos, featuring guitarists Dave Murray, Adrian Smith and Janick Gers, frontman Bruce Dickinson, drummer Nicko McBrain and bassist Steve Harris.
The other four stamps pay homage to Eddie, the mascot of the 'Run to the Hills' group, including one as a samurai warrior from the 'Senjutsu' album artwork and 'The Trooper' Eddie for the 1983 classic of the same name and the heavy metal band's logo for their beer.
Founder Steve commented: "We were all absolutely amazed – in a good way! – when we first heard about the memorial project, and just as virtually speechless when we first saw the stamps. They look fantastic and I think they really capture the essence and energy of Maiden. We are all very proud that Royal Mail has chosen to honor the band's legacy in this way and we know our fans will feel the same way."
Iron Maiden manager Rod Smallwood said: "As a band that has never played by anyone else's rules in over 40 years, it is very gratifying to see them being honored in this way in their home country. We are proud to show how these six band members continue to attract more and more fans each year with their music and their legendary shows – which I think these stamps capture well It's also fantastic that Eddie has been honored too – it's incredible to to think that Her Majesty, may she rest in peace, saw this and lent her iconic silhouette to them as well."
David Gold, Director of External Public Affairs and Policy at Royal Mail, added: "Few bands in the history of rock music can be called bona fide rock legends – but Iron Maiden is just that – and more. With legions of devoted fans of all ages and from all corners of the world, they have changed not only the way rock music sounds, but also the way it looks. We fully expect their fans to love these stamps as much as we do."
Bruce and co are the fifth band to be honored with a Royal Mail stamp collection, following in the footsteps of The Beatles, Pink Floyd, Queen and The Rolling Stones.
Beatles legend Sir Paul McCartney, Sir Elton John and the late David Bowie have also gotten the stamp treatment in recent years.
The stamps can be ordered now and will be available from 12 January.
Meanwhile, fans can see Iron Maiden on the road in 2023 on the 'Future Past' tour of the UK and Europe.