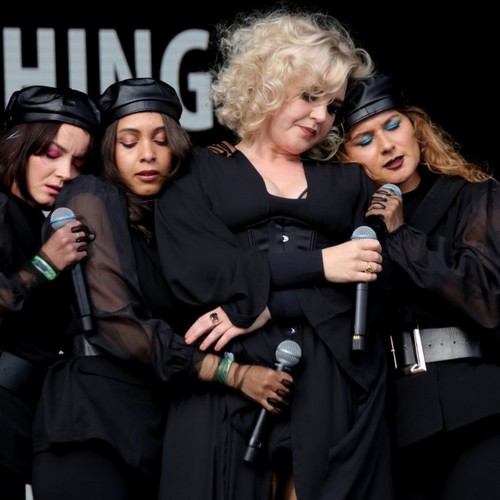 Self Esteem has lashed out at the trolls who shamed her after her US TV debut.
The 'How Can I Help You' star – who has struggled with disordered eating "all her life" – performed on 'The Late Late Show with James Corden' on Monday (09.01.23), and she called out the country for being backward in terms of "societal expectations of womanhood."
She started a Twitter diatribe: "American people call me fat on the internet.
"That's whatever, but I really feel like it's a time warp here [in the US] in terms of cultural-societal expectations of femininity.
"I've struggled with disordered eating all my life and I couldn't feel more bad about a body that is currently working perfectly. (sic)"
The 36-year-old songwriter – whose real name is Rebecca Lucy Taylor – insisted her looks had nothing to do with her talent.
Self esteem added: "I am not less talented or outstanding because I am heavier than a Hadid etc. I may gain or lose weight but yes I dream of a day when it is not a topic of conversation.
"The thing is, it's not hard to get really thin. It just makes life a lot less beautiful. My inner wiring certainly sees my reflection as something that needs "sorting," but then I remember the nice vs. not-so-nice toss and get on with my day. (sic)"
The Mercury Prize-nominated star previously revealed how, when she was in the indie group Slow Club, the "skinny" she was, the more work they would get.
She said: "It was a depressing reality being in my old band [Slow Club] the skinnier I was, the more chances we would get.
"With Self Esteem, I have complete creative control, and it's been important for me to celebrate my body: It's not a plus size; it's not small; it can go up or down a stone. It's a healthy size 44 and for some reason that feels radical."