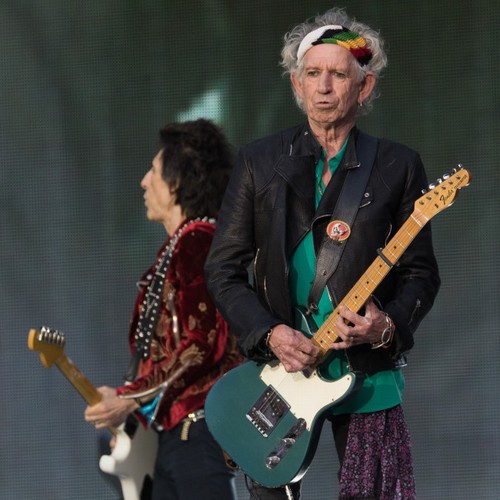 Keith Richards has teased that new music is "on the way".
The Rolling Stones guitarist was apparently referring to new songs from the 'Start Me Up' band.
In a belated Happy New Year message to fans, Keith, 79, wrote on Instagram this week: "Hi guys, here we are again.
"I wish you all a belated Happy New Year and some new music is coming and hopefully we will see you. Let's hope."
The late drummer Charlie Watts will be on the band's next album, Ronnie Wood recently revealed.
The legendary rock group has been working on their first LP of original songs for 18 years and the 75-year-old guitarist-and-bassist said Charlie – who passed away aged 80 in August 2021 – will eagerly be heard on the forthcoming record, which expected to be released in 2023.
Speaking to The Sun newspaper's Bizarre column, Ronnie said: "We're recording the new album now and we're going to LA in a few weeks to continue and finish it. Charlie is on some of the songs and drummer Steve Jordan."
New sticksman Steve replaced Charlie on drums on their 2022 'Sixty' tour, which marked six decades of the band's existence.
The new album will be the first LP to feature new compositions from singer Sir Mick Jagger and Keith since 2005's 'A Bigger Bang', although they did release the single 'Living in a Ghost Town' in 2020.
The last album the band released was 2016's Blue and Lonesome, which consisted of covers.
Meanwhile, the 'Paint It Black' rockers are performing a virtual concert to mark the release of 'GRRR Live!' to celebrate.
The Stones performed one of their most memorable concerts in Newark, New Jersey in 2012 when it aired on pay-per-view – and they're now planning to celebrate the release of 'GRRR Live!' to celebrate. by broadcasting the star-studded event on Feb. 2.
The show featured performances by a host of big stars, including Lady Gaga, Gary Clark Jr. and John Mayer, Mick Taylor, and Bruce Springsteen.
And the iconic show is now being made available to fans around the world on RollingStonesNewark.com, through the global live streaming technology of interactive video company Kiswe.