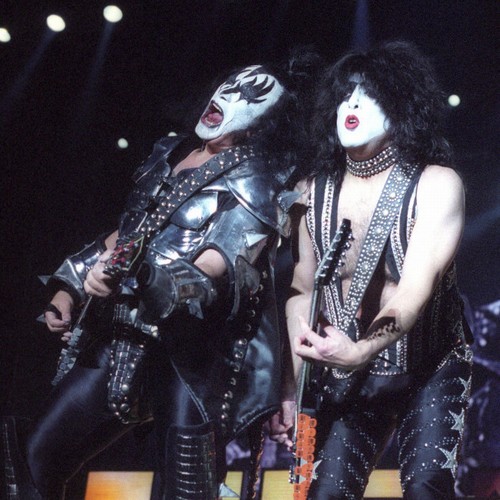 Gene Simmons says KISS has "an awful lot of material" for many more 'Off The Soundboard' releases.
The glam metal group launched the bootleg live series last year with the recording of their Tokyo 2001 concert at the Tokyo Dome.
They followed that with 'Des Moines 1977', 'Donington 1996' and 'Virginia Beach 2004', and fans can expect many more live albums to be released in multiple formats.
When asked by Vintage Guitar Magazine if more episodes are coming, Gene replied, "Yes. We have a big temperature-controlled safe. There's an awful lot of stuff in there.
"It's always about having some free time to go in and say, 'Let's see what we've got.'"
Last week, the official KISS Instagram account also asked which tours fans would like to see.
The message read: "KISS – Off The Soundboard is our official live bootleg series. Des Moines 1977, Donington 1996, Tokyo 2001 and Virginia Beach 2004 were the first 4 releases. What tours do you want to release next, #KISSARMY?"
The 'Rock and Roll All Nite' band – also consisting of Paul Stanley, Eric Singer and Tommy Thayer – will stop touring after completing their 'End of the Road' farewell tour this year.
Co-frontman and bassist Gene, 73, recently insisted that KISS is moving beyond touring.
The 'Detroit Rock City' hitmaker suggested that this isn't the last time fans will see them in their black makeup.
He said: "KISS the touring band will stop. But the touring band. KISS continues in other ways. I have no problem with four deserving 20-year-olds putting the makeup back on and hiding their identities."
KISS first announced their retirement in 2000, and with 2023 marking the end of their touring career, it's the longest farewell in music history.