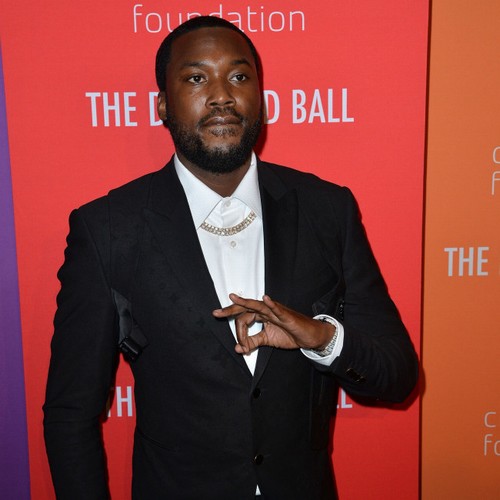 Meek Mill has apologized after causing a backlash for filming a music video at Ghana's presidential home.
The American rapper – whose real name is Robert Rihmeek Williams – released the visual for the promo and came under fire, along with the country's government, for showing aerial photos of President Nana Akufo-Addo's residence, Jubilee House, which many thought poses as a risk to his safety.
The hip-hop star insisted he never meant "disrespect."
He tweeted on Monday (09.01.23): "To the people of Ghana, no video I drop is ever meant to disrespect the people of Ghana…. The fastest way to connect is through music and that's what I wanted to do exhibiting art… I'm in my thirties and from America and didn't know much about the lifestyle here (sic)"
The 'Levels rapper explained that his intent for the video was to "make the connection between black people in America and Africa" ​​— and he vowed to "push" to do just that.
Meek added: "I apologize to people if there is any disrespect! We're still going to push to make the connection between black people in America and Africa… what I'm trying to do is more than a video and you should must see soon! My apologies to the office too!"
The apology for the video comes after the music star posted bail for 20 women so they could spend Christmas with their families.
The 35-year-old rap star showed his support for the women last month, explaining that no one should spend Christmas in jail "simply because they can't post bail".
He said in a statement: "For families affected by the criminal justice system, the holiday season can be an extremely challenging time.
"Nobody should have to spend the holidays in jail simply because they can't post bail, and no child should be without their parents during this time if we can help it. I am grateful for the opportunity to help these women to assist." being with their families and loved ones at this special time of year."
Meek's gesture was also explained in an Instagram post on the page of his nonprofit REFORM Alliance.
The post read: "The women, who failed to post bail, can now spend the holidays with their families and loved ones. Five women were released today and will be reunited with their families, with another 15 women targeted to be released within the next week. The women also each get a gift card to buy groceries or gifts for the holidays. "