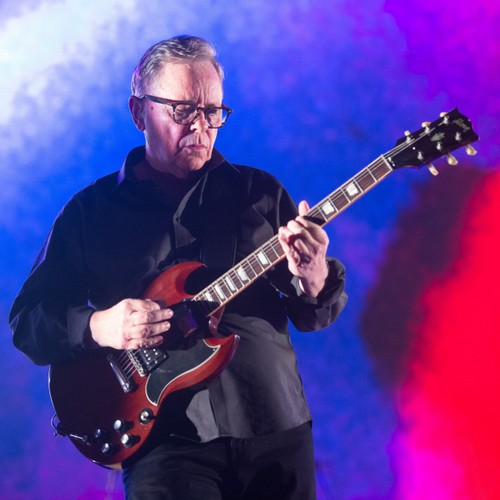 New Order has released a 'Blue Monday' t-shirt to benefit the charity MIND.
The 'World in Motion' hitmakers are "proud" to have teamed up with the Campaign Against Living Miserably to mark 'Blue Monday' (16.01.23) – the day that shares the name of their 1983 hit song and is believed to be that it's the most depressing day of the year – to use the garment to raise awareness and money for mental health treatment.
The band said in a statement: "We are proud to be ambassadors for CALM and honored to use 'Blue Monday' to raise awareness for the brilliant work they do supporting millions of people struggling with their mental health. ."
Iconic Factory Records graphic designer Peter Saville – who was behind the iconic artwork on the original single of the same name – labeled his work "tongue in cheek" at the top while praising the charity's work.
The 67-year-old artist said: "It is a bit ironic to launch a Blue Monday commemorative shirt on Monday 16 January. But ultimately we wanted to use this as a means of raising awareness and money for CALM's important work.
"Whether you have a Blue Monday, Tuesday or Thursday, we want people to know that CALM is there for you every day when you're struggling."
Simon Gunning, the charity's CEO, hailed the venture as a "brilliant creative idea".
He said: "'Blue Monday' has been on repeat for a whole generation of music lovers since 1983. From the first beat of the intro to arguably the most iconic 12-inch cover of all time, millions of people are instantly drawn to what has rightfully become one of the most beloved songs in British music history – and that memorable opening line 'How does it feel? ' fits perfectly into CALM's ethos of support.
"To have New Order and Peter Saville backing us with such a brilliant creative idea, we will reach thousands of people with the clear message that CALM is always there for you, whether it's mid-January or any other day. "
Recently, the group's Bernard Sumner and Stephen Morris celebrated the 42nd anniversary of the suicide of their Joy Division bandmate Ian Curtis by testifying in the UK Parliament that they failed to notice the signs.
Bernard said: "Originally we didn't think he had a mental health problem – we thought he had a problem with epilepsy.
"His lyrics were a bit on the dark side to say the least, but when Ian was with us on a daily basis and during rehearsals, he had a good laugh.
"You look at a lot of pictures of Ian at the time, and a lot of them are of him with his head in his hands. Those photos were taken in the two weeks before he died. The rest of the time he was usually fine."