Steam has a hidden feature tucked away in the settings that lets you manage all the games you have installed. If you want to see where that huge chunk of Call of Duty data has made a home for itself, you don't have to dig into your PC's directories. The Steam storage manager lists all the games on your PC and lets you do the work in one window.
For some reason, the Steam storage manager isn't located in an intuitive place. To access it, you need to go to your Steam settings. Open the Steam client settings by clicking "Steam" in the top left corner of the window and then clicking "Settings". Now select "Downloads" and then click on the confusingly titled "Steam Library Folders" to open the storage manager.
The storage manager is split into tabs for each storage drive on your PC with a designated Steam folder on it. If you want to add another drive to the list, you can click the plus button on the right. Personally, I don't have many games on my PC when I'm not actively playing them, but for all the folks hoarding them just in case, you can see everything here without having to dig through your drives.
Each game has a checkbox next to it that allows you to mark it to be deleted or moved to another drive. You will also get information such as save size, DLC save size, and when you last played each game. Why do I still have VRChat installed even though I'm tired of running around like a Genshin character crashing virtual raves? I'm not sure, but with this tool I was finally able to get rid of it. I don't, but I could.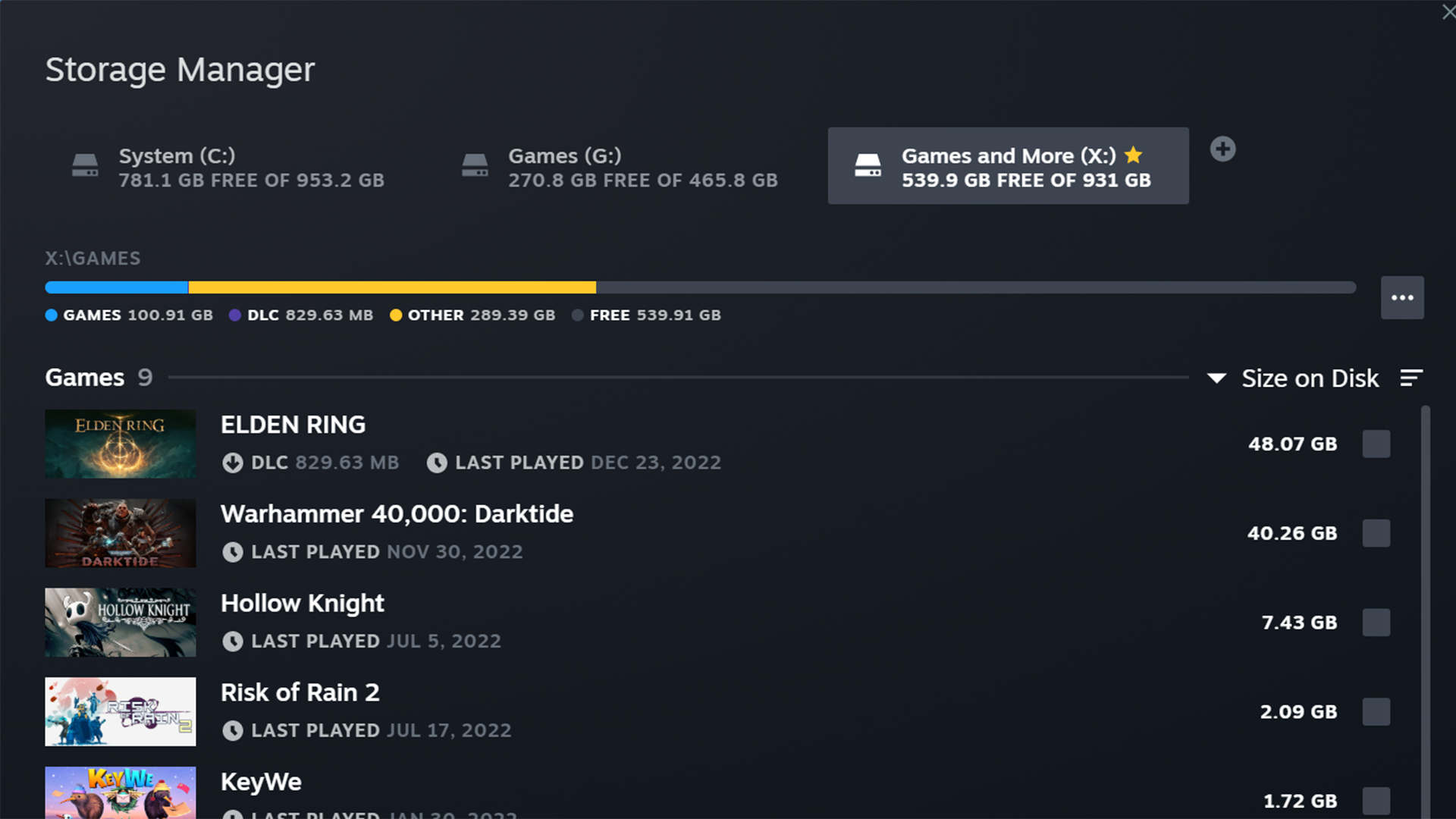 For those tough times when games aren't working quite right, the Steam storage manager also lets you repair an entire folder of games instead of having to do it manually for each folder. I can't think of a common reason why you should be doing this, but it could occur after a hard drive failure or some other PC-wide failure. To do this, select the three dots on the right side of the storage breakdown and select "Restore Folder".
The Steam storage manager isn't exactly cutting-edge technology, but it's a useful tool for moving files around without having to drag and drop them yourself. It has only been introduced last year, so it may gain additional options in the future. It would be nice to see a list of the games I have installed on my Steam Deck and maybe some sort of option to automatically move my least played games to another drive or something. But the limited functionality and easy visualization of this feature alone is a nice way to manage your storage, especially since game install sizes vary wildly. I'm looking at the 48 GB of Elden Ring that I can't decide whether to erase from my drive or keep it for that any DLC (opens in new tab). I think I'll keep it, but now I know where to go when I need to make room for something else.