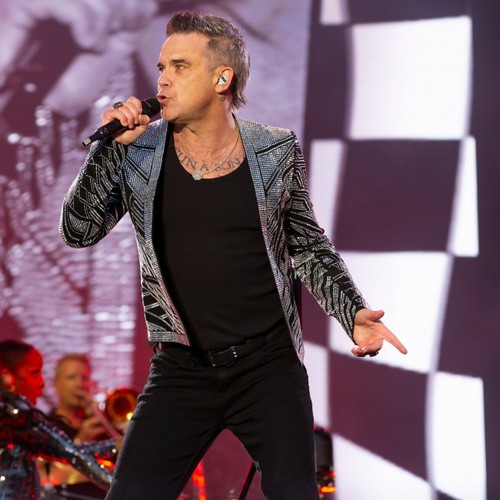 Robbie Williams wants to play Glastonbury.
The 'Old Before I Die' singer – who previously performed at the world famous music event in 1998 shortly after launching his solo career – is looking forward to the Sunday afternoon Legends slot at this year's festival and thinks the odds would change a lot people's perception of him for putting on such a great show.
Speaking on his 'Robbie Williams Rewind' podcast, he said: "I haven't been asked yet. I know I'd butcher it. It's one of those times and places, and a reimagining of what Robbie Williams is.
"When you do Glastonbury, the perception changes more than any other festival. Diana Ross could play any festival and fail to gain traction, but she plays Glastonbury and everyone is talking about it, like Barry Gibb.
"A lot of people there have a slanted view of what I am. But if they saw me do it, I'd behead them.
"I look forward to doing it when I get the chance."
But the Spice Girls have also admitted to being interested in the slot.
Melanie C recently said: "Glastonbury is so magical, and it's without a doubt the quintessential British festival.
"One day a Spice Girls performance there would be a great thing. We would love to honor that podium."
And her bandmate Emma Bunton is also enthusiastic about the idea.
She said of the Glasto speculation: "There's always talk, isn't it? 'Oh, the Spices Girls are coming back.'
"It was so funny, even last year a really good friend of mine was at Glastonbury, and she called me and said, 'Are you going on stage?' I'm like, 'No, I'm sure I would have told you!'"
Despite no plans to take the stage at Worthy Farm yet, Emma can't wait to be reunited with her band mates.
She added: "You know what, obviously like the Spice Girls, we love working together, and when the time is right things happen. But I love, love, love [them], and I can't wait for us to perform again. It has to be good for all of us, collectively, so hopefully that will happen soon."