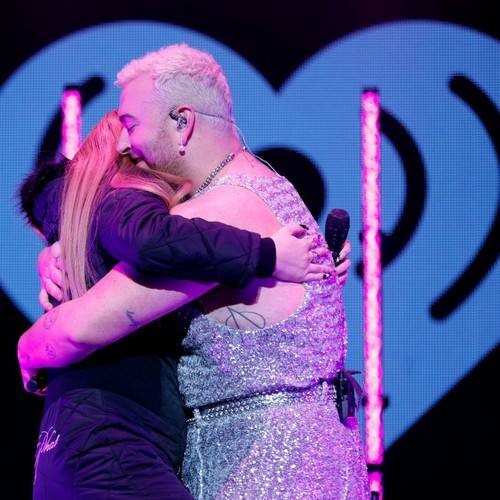 Sam Smith and Kim Petras will reportedly perform at the 2023 BRIT Awards with Mastercard.
The pop star is said to be planning an epic set and has invited their duet partner 'Unholy' to perform the mega hit with them at The O2 in London on February 11.
A source told The Sun newspaper's Bizarre column: "It's been a rough few years for Sam, but a major appearance with the BRITs confirms an incredible reinvention and ushers in a new era of success.
"They want to deliver really impressive staging to wow fans, so the work is in full swing.
"Sam's new album 'Gloria' is due out at the end of this month, so there will be new music to be woven into the performance.
"But Sam is bringing their friend Kim, so 'Unholy' will definitely be sung."
Sam's upcoming LP 'Gloria' will feature Ed Sheeran, Jessie Reyez and Koffee.
Nominations for the glitzy music bash will be announced on Thursday (12.01.23) from 4 p.m.
The news of the BRIT's gig comes after Kim teased that the pair are looking for a sequel to 'Unholy.'
Sam and Kim stormed the charts with the record-breaking tune last year, and they plan to continue their collaboration.
The 30-year-old star said: "I'm definitely talking to Sam right now about having a song on my album coming up.
"I would really like to keep working together, because it's rare that you find artists that you're on the same wavelength with, who you write well with and who you want to be in the studio with.
"I really feel like we were meant to meet and we have such a connection – like lost sisters from a past life. The song has been such a blessing that has brought me so much joy.
"I hear it at McDonald's and every Uber I get into, it's so wild."
With "Unholy," they were the first non-binary and transgender artists to top the Billboard 100.