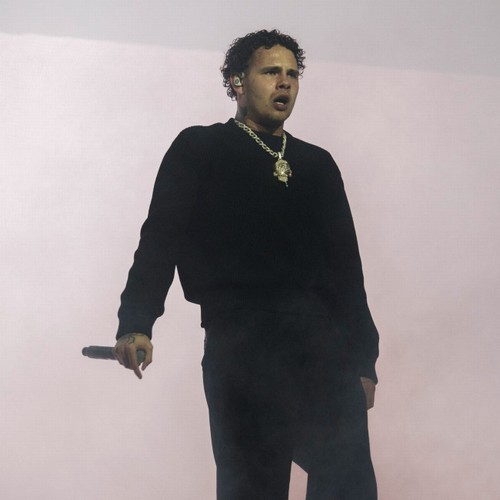 Slowthai will release its new album 'UGLY' on March 3.
The Northampton rapper has revealed his follow-up to 2021's 'TYRON', and the first as part of his new record deal with BMG, alongside lead single 'Selfish', out now.
Slowthai – whose real name is Tyron Frampton – teased that the record is "everything" he's "led to".
He said in a statement: "The first album was the sound of where I come from and everything I thought I knew.
"The second album is what was relevant to me at the time, the present. And this album is all mine – about how I feel and what I want to be… it's everything I've been led to.
Slow Thai sings more on this record because he didn't feel like rapping.
He explained: "With this album, I tried to emulate the spirit of the brotherhood ethos that bands have. Music is about the feeling and the emotion that goes into it.
"Like an artist making a painting, it is the expression of that moment in time. I really felt like I didn't want to rap, when previously rap was the only way I could express myself with the tools I had. Now that I have more freedom to create more and do more, why not change it?"
On the deeper meaning behind the album's title, Slowthai added, "It doesn't matter what or who people think you are, you just have to stay true and respect yourself.
"I got UGLY tattooed on my face because it's a reminder to love myself, rather than constantly putting myself down or feeling like people should define me for who I am as a person. At the end of the day, the art I make is for myself, and the music I make is for myself, if I enjoy it then who cares. So the way I should live my life should be without expectations from anyone else. I think it's something we all need to hear because everyone needs a smile, and everyone needs a little bit of joy and you need to look within yourself to really feel it because no one else can give you the real feeling."
The 28-year-old British star signed a deal with the major label for all of his future releases.
Slow Thai rose to prominence in 2019 for his politically charged verses about Brexit and former and current Prime Ministers Theresa May and Boris Johnson.
His debut studio album, Nothing Great About Britain, was nominated for the Mercury Prize.
Slowthai released the follow-up 'TYRON' in February 2021, which became his first UK number one album.
The star-studded LP features collaborations with Skepta, Dominic Fike, James Blake, A$AP Rocky and Denzel Curry.
The track listing for 'UGLY' is:
1. 'Yum'
2. "Selfish"
3. 'Before'
4. "Feel Good"
5. 'Never Again'
6. 'F*** It Puppet'
7. 'HAPPY'
8. 'UGLY'
9. 'Fall'
10. 'Wotz funny'
11. 'Tourniquet'
12. '25 Percent Club'