Must know
What is it? An open world action about running fast.
Expect to pay $60/£50
Developer Sonic team
Publisher Sega
Judged by GeForce GTX 1070, i7-7700, 16GB RAM
multiplayer? no
Clutch Official site (opens in new tab)
Stunts are always cool. Running at 100 mph, making your way through hoops before graciously going around a loop-the-loop is never fun. Unfortunately, it will take a while for Sonic Frontiers to get there.
While on a biplane adventure to investigate the Starfall Islands, Sonic and friends are unexpectedly sucked into cyberspace through a wormhole. While Sonic manages to run fast enough to escape back to the real world, Amy and Tails aren't so lucky and are trapped like holograms. Sonic must navigate the islands by unlocking portals, fighting bosses and collecting trinkets to return his friends to normal. It's not that simple, of course, as an AI called Sage teams up with Eggman to get in your way as you unravel the deeper mysteries surrounding the islands.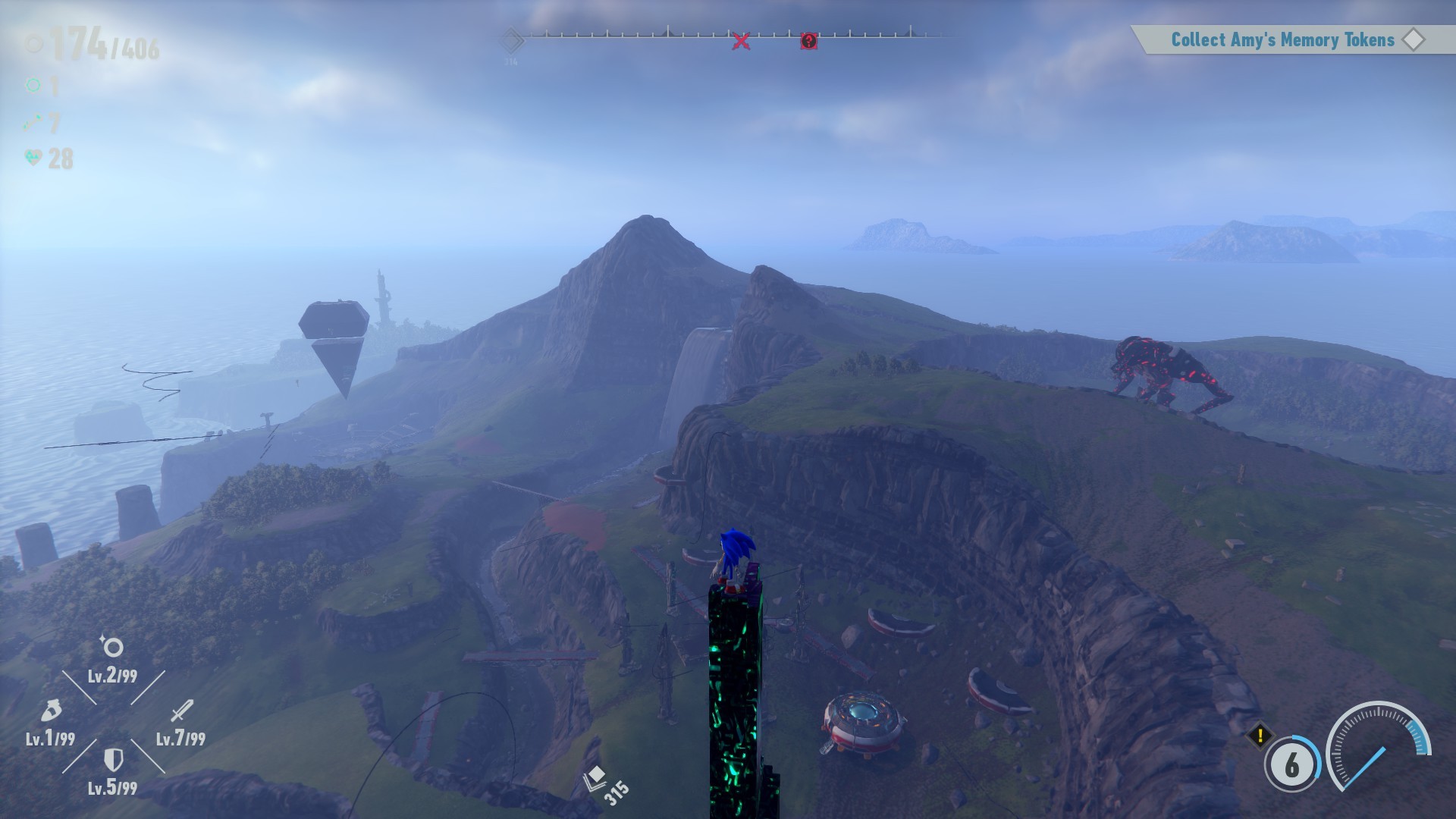 The world is structured in two halves. There's cyberspace, which plays out like classic Sonic levels where you have to zoom to the target as fast as possible, and the Starfall Islands themselves, a series of open-world spaces for you to explore. The first time you escape from cyberspace into the real world, you're presented with an incredibly bland landmass of gray rocks and flat grass. It's really not a great start – the world feels cold and empty, but over time giant loops and bounce pads are added, turning the landscape into a theme park as you progress.
Honestly, if I hadn't had to go past the beginning to make the review I would have bounced right off and missed it. But after three hours, things really start to click, as new rails and paths are added to the map, making traveling so much more satisfying.
Sonic itself also feels sluggish at first. Its turning circle feels huge, which is a problem when there are tight turns to navigate when ricocheting around platforms or trying to find different paths in the more old-fashioned noise levels. It speeds up once you start finding the bell-like Koco creatures scattered around the world and return them to the Elder Koco in exchange for speed boosts. Once you reach the level 7 upgrade, Sonic finally starts to feel like he should. It feels so much more graceful to maneuver at speed – nothing beats sliding down a rail with sparks flying at your heels before flipping to another and blasting through a series of hoops to reach your destination.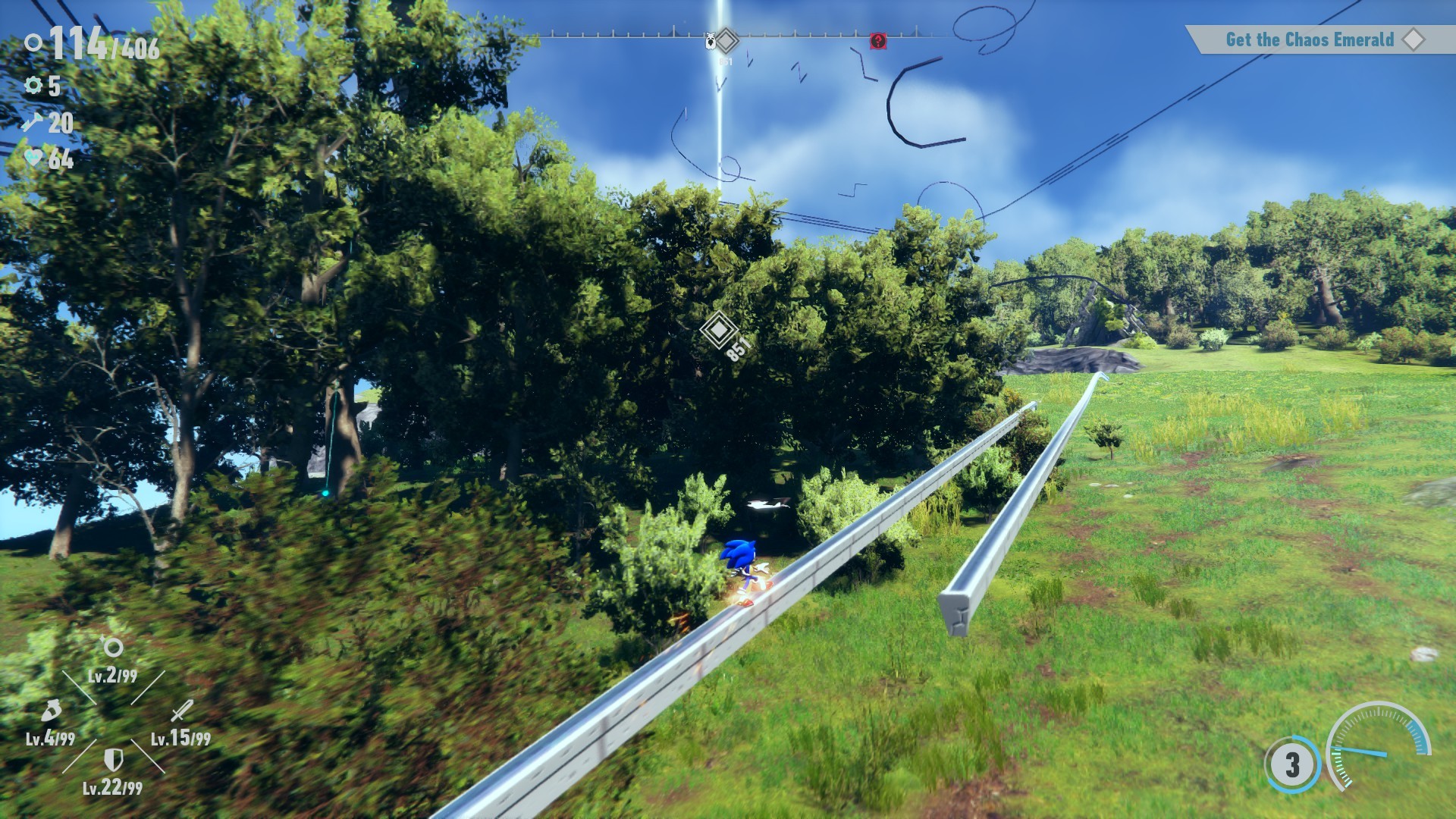 Cool runs
Sonic is also quite useful in combat. Simple strikes can be combined with more skills over time. A few hits are all it takes to take down basic enemies, but the new maps are also filled with Shadow Of the Colossus-style giants that require more attention. Some let you watch for pauses in their movements before you strike, others, like the giant Asura, have you navigating a path through their bodies to find their fragile squishy bits. For a game about running, fighting is strangely at home here. Unfortunately, that all goes haywire once you get to the Titan battle at the end of each area. While the Titans are intimidating to watch, fighting them is a mess of action sequences and free-form flying to take them down. While the scale of it is exciting, the pacing feels so inconsistent with the rest of the game. You feel confused by an exaggerated light show.
The cyberspace sections provide the spectacle the overworld lacks, and are full of bright colors and giant loops for Sonic to sprint. They also punish. The camera often swings around to change your angle of view and walking angle. When you hit enemies, you'll run towards them at an impressive speed, but once they're taken out, you'll come to a complete standstill and have to rebuild your speed from scratch. You better avoid them. However, Sonic's new Cyloop ability is a lot of fun: you can draw paths around objects or enemies as you run to deal damage or solve puzzles.
The progression system is a mess of currency. To get to any of the Titans you must first collect the Chaos Emeralds, and to collect those you'll need gate keys, but to get those you'll need to collect gears to open cyberspace portals. You'll also need a ton of other collectibles to improve skills and progress, but with so many sparkling objects to keep track of, it's hard to know what to focus on first. It's meant to encourage exploration, but it doesn't quite work – instead it feels like you're being pulled in 10 different directions at once because the world itself isn't worth exploring. Traversal is more about testing your skills and performing awesome stunts than actually looking around. That's not necessarily a criticism – it's great for traveling around Starfall Islands and riding the rails – but chasing sparkly trinkets isn't a good incentive to do so.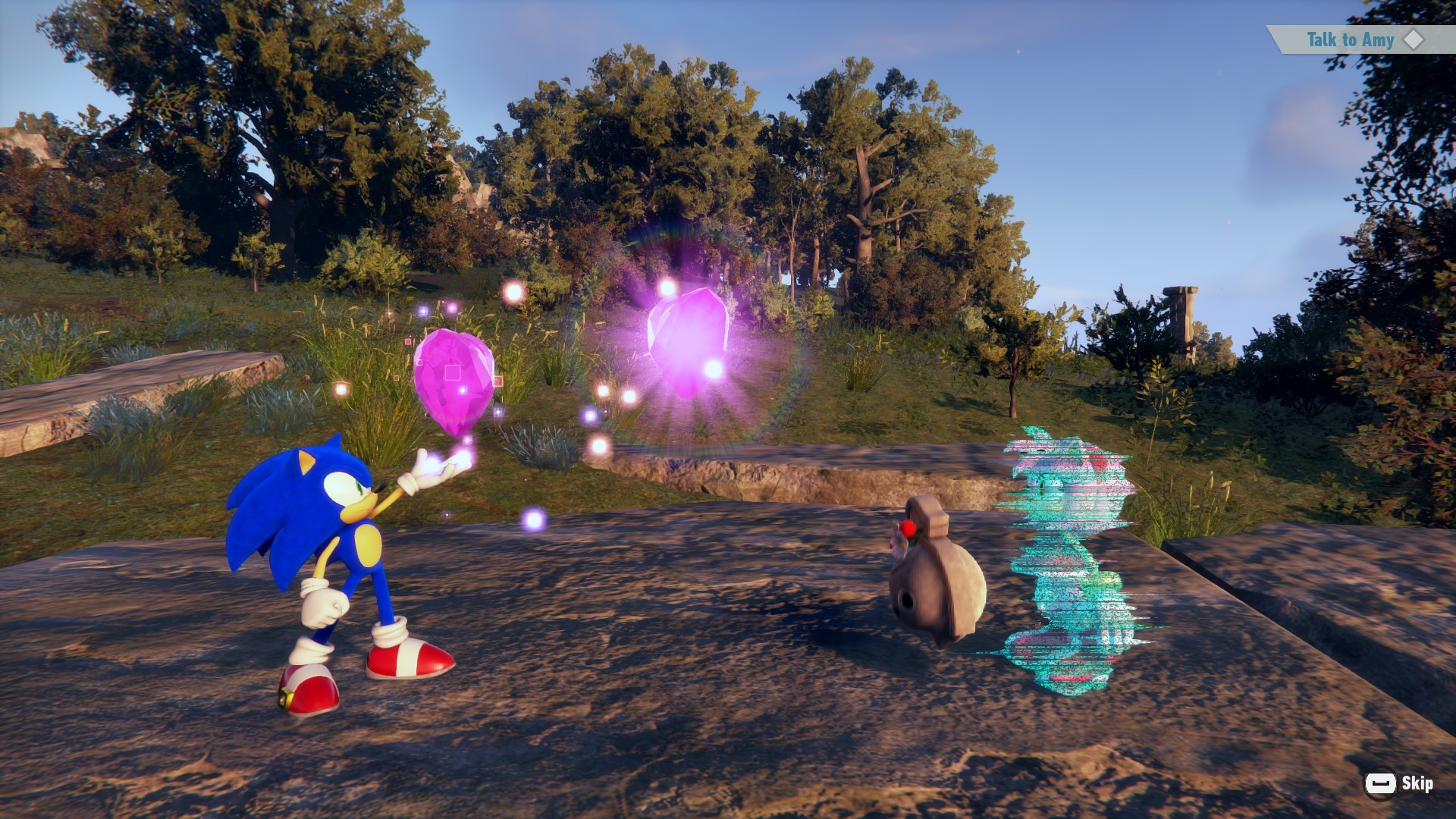 Unfortunately, I encountered some strange bugs. The game could get messed up if I had a controller connected to my PC, making movement impossible – annoying if this is definitely the kind of game you want to use a controller for. The keyboard controls are fine, but it's not that intuitive when you're trying to pull off combos in combat. There's also a lot of pop-in that can be a surprise if you don't know if there's a route ahead that you can follow until it appears.
I wrestled with Sonic Frontiers. As you bounce through pinball-like arenas and climb up walls to reach seemingly impossible places, it feels like hell, but the world it's all set in is flat. The drama of the story makes for compelling reason to keep playing, but it's hard to recommend Frontiers since so much gets in the way of letting you enjoy the purity of Sonic's movement.