MSI's Tomahawk motherboards usually score high. They tend to focus on a core feature set rather than the premium features common to much more expensive boards. If you don't care about the bells and whistles, but you still want something that can handle demanding driving Core i9 13900K (opens in new tab) CPU, then Tomahawk models will probably be on your radar.
The MSI MAG Z790 Tomahawk Wi-Fi (opens in new tab)– as the name suggests – is part of MSI's MAG range, the second sub-brand. It sits above the Pro range and below the MPG and high-end MEG range. At $319 / £337 / AU$569 it's not cheap, but compared to what some premium-tier boards sell for, it's not badly priced at all. However, there is stiff competition from the other suppliers in its price range.
Here for review I have the DDR5 version. There is also a DDR4 version if you have a good set of DDR4 memory on hand, but if you also need to buy memory, the DDR5 version is definitely the way to go. DDR4 is nearing the end of its life and the 13th generation platform is almost certainly its last hurrah.
The Tomahawk has a tried and tested all-black theme, with plenty of brushed metal heat sinks. It lacks built-in RGB, although you get four headers, three of which are addressable. Personally, I prefer this kind of more subtle design to the one that shows you overt RGB ads every time you look in your shop.
MSI Z790 Tomahawk specs
Wall outlet: Intel LGA1700
CPU Compatibility: Intel 12th and 13th generation desktop processors
Form Factor: ATX
Memory support: DDR5-7200+(OC), up to 128 GB
Storage: 4x M.2, 7x SATA
USB: Up to 1x USB 3.2 Gen2x2, 6x USB 3.2 Gen 2, 6x USB 3.1 Gen 1, 6x USB 2.0
Display: 1xDP 1.4. 1xHDMI 2.1
Networking: Intel 2.5G LAN, Intel Wi-Fi 6E
Audio: Realtek ALC4080
Price: $319 (opens in new tab)/ £337 (opens in new tab) / €569 (opens in new tab)
The Tomahawk offers support for four M.2 drives, although it lacks PCIe 5.0 SSD support. Would it be nice to have? Yes, but along with a total lack of PCIe 5.0 drives, the Z790 platform requires an 8x/8x split between the 16x primary slot and the M.2 slot, meaning it's not a thing right now that is essential to have. A good quality PCIe 4.0 drive will be more than enough for years to come, just as a good PCIe 3.0 drive is still relevant today.
Unlike some PCIe 5.0 SSD supporting boards, such as the more expensive ones Gigabyte Aorus Z790 Master (opens in new tab) with its massive M.2 heatsink, the Tomahawk doesn't need one, sticking to a stealthy design that doesn't need much surface area.
The Z790 Tomahawk comes with seven SATA ports. For bulk storage, SATA still has a place, and those seven ports alone could be a deal maker for some users. Some cards that cost much more come with only four SATA.
The VRM is a real standout compared to competitive offerings in its price range. A 16+1+1 phase solution with 90A stages can easily push an overclocked Core i9 13900K. However, you need to make sure you have active airflow over the heatsink as they don't have much surface area. While running Cinebench R23 on a Core i9 13900K with no power limits, I saw a maximum VRM temperature of 69°C. That's okay, but in a closed enclosure with poor airflow, temperatures will rise much more. Less demanding i5 and i7 CPUs will of course fare a lot better.
The rear I/O is particularly impressive, with a total of ten USB ports, complemented by USB 3.2 Gen 2×2 and Gen 2 Type-C ports. Add to that four USB Gen 2 ports and four Gen 1 ports. There's 2.5G LAN and Wi-Fi 6E, a full set of audio ports powered by a Realtek ALC4080 codec, CMOS and BIOS flash buttons, and finally HDMI 2.1 and DP 1.4 ports.
That's a very well-rounded set of options, especially at this price point where USB4 or Thunderbolt 4 isn't expected. These are the kind of features that makers use to justify boards that cost twice as much.
MSI's BIOS hasn't changed much over the years, and frankly, it doesn't need to. If you're familiar with MSI boards since their first UEFI iterations, you'll be right at home. While everyone will have their own opinion on which layout they prefer, MSI's interface gets my pick. I especially like MSI's fan control system. I hate leaving my system's fans on auto.
You could say I'm a fan… I'll show myself.
The MSI BIOS provides you with a simplistic CPU TDP selection on first boot. There's a standard 'Boxed Cooler' setting that enforces Intel's power limits, a 'Tower Cooler' option that boosts TDP to 288W, and finally a 'Water Cooling' option that overrides all limits. Not that you'll ever need it, but this allows for a hypothetical 4096W!
System performance
Game achievements
Test setup
PROCESSOR: Intel Core i9 13900K
Pictures: Zotac GeForce RTX 3080 Ti AMP Holo
RAM: 2x 16GB G.Skill Trident Z5 DDR5-6000 C36
Storage: 2TB Seagate FireCuda 530
Cooling: Cooler Master PL360 Flux 360mm AIO
PSU: Corsair AX1000
I was lucky enough to get my hands on both the DDR4 and DDR5 versions of the Z790 Tomahawk. That gives us a great opportunity to look at comparable systems with both types of memory. The takeaway – and it's a consistent takeaway when we talk about memory – is that quick memory only helps in very specific situations. In this case, I used a good set of DDR4-3600 C14 memory, meaning DDR4 results are as good as it gets unless you have some really top shelf B-Die memory at 4000MHz+.
The Handbrake video encoding test has many advantages, the file compression test even more, while in other cases the differences fall within a margin of error.
When it comes to gaming, the differences apply to specific games. Now that DDR5 prices have come down, it makes sense to choose the DDR5 Tomahawk over the DDR4. Of course, a better graphics card or CPU will yield more tangible performance benefits.
When comparing the DDR5 Tomahawk to some other Z790 DDR5 cards, the results generally fall within a margin of error. You'll get faster multithreading results if you leave your CPU's power limits unlocked, although power consumption will increase and you'll need very good cooling.
These days, with per-core CPU turbo designs, it's pretty much useless to use overclocking to evaluate a CPU. Any mid-range board can handle a Core i9 13900K and if you overclock you will run into cooling limitations before VRMs are overworked. Don't forget to keep the VRM cool though, as mentioned the Z790 Tomahawk needs airflow to keep it from getting too hot. The Tomahawk needs a bit of BIOS optimization to support fast memory. It's a minor thing though, not many people will use 7600MHz+ on mid-range boards. Also, the Tomahawk doesn't officially support speeds higher than DDR5-7200, so it can't be faulted for not using "bonus" speeds.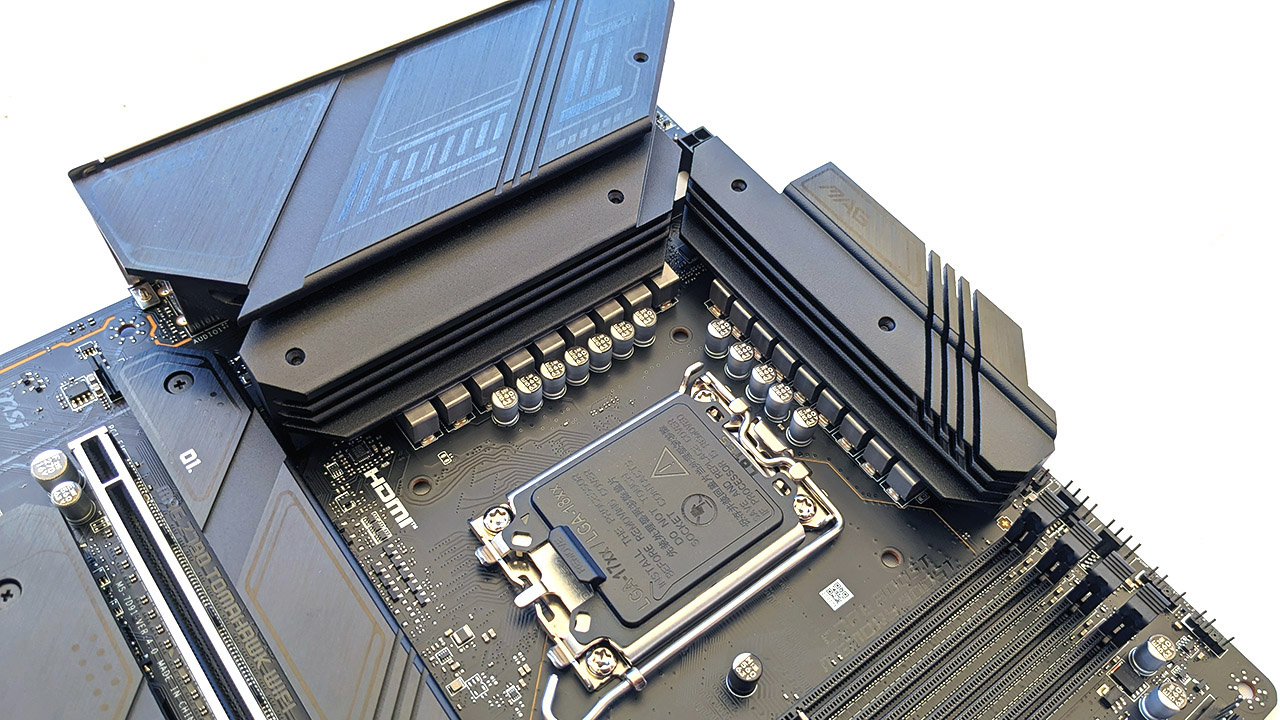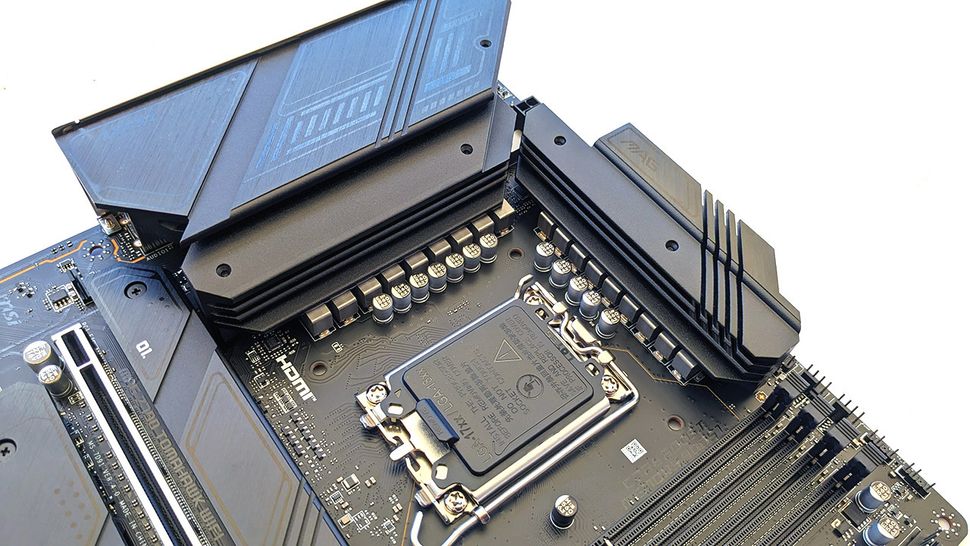 Thanks to inflation, supply chain issues, and a little (or a lot) of greed, motherboard and graphics card prices are skyrocketing. That means finding a good value motherboard is essential so you can spend money on a faster GPU or CPU. If you're making a checklist of what you want from a motherboard, the MSI Z790 Tomahawk should have most of what you need. Things like USB4 or 10G LAN are what board makers use to justify the price of motherboards costing double the Z790 Tomahawk.
The checklist is complete for most users. Wi-Fi 6E, 2.5G LAN, a strong VRM that can handle 13900K, plenty of USB ports including 3.2 Gen 2×2, a solid BIOS, and a discreet design to suit almost any build theme. Ask yourself if you need more? If you do, be prepared to make a price increase.
Perhaps the lack of PCIe 5.0 M.2 support counts and requires good airflow if you subject it to heavy loads, but the MSI MAG Z790 Tomahawk is still a solid, feature-rich board that delivers a core feature set capable of handling 95 % or more users. Should you spend more? I'd say you probably don't.