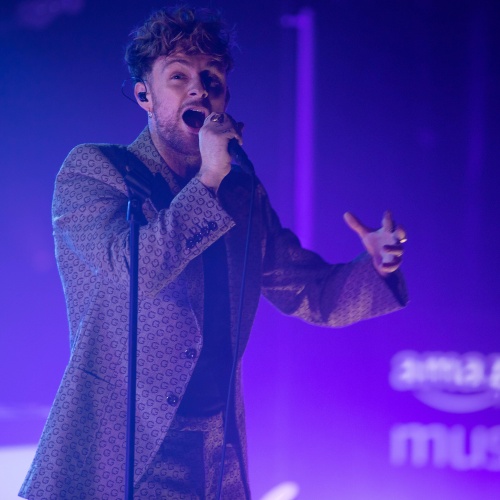 British Ivor Novello Award nominated singer-songwriter Tom Grennan has launched his hilarious new phone-in podcast show 'The Tom Grennan Phone In'.
In each episode, Tom welcomes a special guest to his studio for some fun conversation, with guests including Vicky McClure, Roman Kemp, Jaackmaate, Mimi Webb and Zara McDermott.
While Tom has dutifully prepared his own questions to ask his guests, he's also decided to open up his studio phone lines for friends and fans to call in and join the conversation.
Callers can be anyone from family members, Premier League footballers, friends, famous actors or even Girls Aloud members.
The first episode of The Tom Grennan Phone In will launch on January 19th with Tom's first guest and friend, Jaackmaate.
Discussing the podcast, Tom says, "Ring riiiiinnnnggggg! I'm so excited to launch my first podcast with a dream lineup of guests. Last week I was nominated for a BRIT and this week I'm launching my first podcast. You are not yet ready for what's to come – dreams come true! Tune in for chats and maybe a few surprises!"
The announcement follows news of Tom Grennan's third consecutive BRIT Award nomination, who is currently shortlisted for Alternative/Rock Act at the 2023 awards. Tom also received nominations for Song of the Year with MasterCard for his international hit 'Little Bit Of Love', and Alternative/Rock Act, at the 2022 ceremony.
Looking forward to a UK arena tour and a brand new studio album titled 'What Ifs & Maybes' due for release in Summer 2023 via Insanity Records, Tom steps into the new year with world-class ambition.
The What Ifs & Maybes UK tour kicks off in March 2023, marking Tom's first headline arena shows. Tom also made a huge effort to keep ticket prices low for all fans, with many praising his decision to scrap all platinum packs and VIP tickets, setting an example for the industry.
Tom already has four UK Top 10 singles to his name. And a hat-trick of his 2022 songs, "Remind Me," "Not Over Yet" featuring KSI, and "Lionheart (Fearless)" featuring Joel Corry, have all been named in The Biggest Songs of 2022 by The Official Big Top 40. Two of Tom's platinum selling anthems, 'Little Bit Of Love' and 'By Your Side', scored in the top three most played songs of 2021 – both taken from Tom's groundbreaking UK #1 and BRIT certified GOLD album, 'Evering Road '.
The Tom Grennan Phone-in is a Banana Stand Ltd / Insanity Records production.
Tickets for Tom Grennan's What Ifs & Maybe's UK Headline Arena Tour are on sale below.