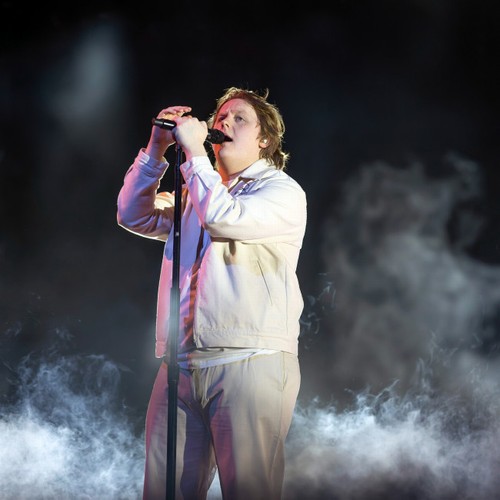 Lewis Capaldi had to pause his concert after a fight broke out during 'Hold Me While You Wait'.
The Scottish star was stunned after an alleged altercation took place and a woman was escorted from Manchester's AO Arena on Wednesday night (18.01.23).
Lewis was halfway through performing the ballad from 2019's 'Divinely Uninspired To A Hellish Extent' when he was forced to turn on the floor lights and have security look at the incident.
He told the crowd: "They crept into the crowd there. Um, we'll have to get them out. We cannot fight."
Lewis added: "What a weird song to fight against. Bizarre, bizarre."
Another fight broke out on the opening night of the tour in Leeds, where the 'Someone You Loved' hitmaker also had a bra thrown at him on stage.
While putting on the underwear, he joked, "When I pictured the opening night of my sold-out arena tour, I thought this."
While fans were kicked out of his concerts, Lewis was recently kicked off Tinder.
The 26-year-old singer turned to dating apps in hopes of finding love, but Lewis was quickly removed from the platforms as his profile was believed to be "fake".
He explained: "I just got kicked off Tinder because people think I'm fake.
"I got kicked off Bumble, Tinder and Hinge. Someone told me to go on this Feeld and I went on it and it's so sexual, it's unbelievable.
"It's all about kink and BDSM and I'm like 'This is way beyond anything I'm tuned into.'"
Lewis admits that his fame and success have actually made his love life more complicated.
Speaking to Steven Bartlett on the 'Diary of a CEO' podcast, Lewis shared, "At the end of the day I'm still 25 and people are talking about a power imbalance of someone being famous. I'm trying to work that out also because I don't want my fame use, or because it wants to have some influence on someone I'm dating.
"What, can I only date people who are famous? That's really weird.
"I admit it's a little weird being on Tinder, but I met my last girlfriend on Tinder and she's fucking amazing."